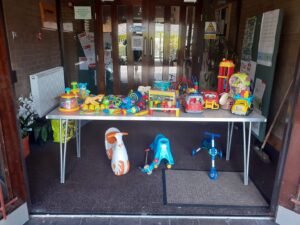 Community toy library based at Whalley Range Methodist Church
Free registration and free toy loan for pre schoolers.
Open on Wednesdays, 1:30 – 3:00.
No charge for joining or borrowing toys!
Find and follow us on Facebook
You can donate to our service in one of the following ways:
Deliver to WRMC at 1pm on Tuesdays
Request a collection of toys through our Facebook page.
All collections will be conducted in a COVID-secure way.
'Can I have that one?' Maybe it's a toy car, or a doll, or a teddy – the little hands stretch out and the face lights up with a huge smile.
In the area where Whalley Range Methodist Church sits, child poverty runs high, with around 2,500 children living in poverty across Moss Side. This means that toys become a luxury, and children can't access opportunities for imaginative play and learning. So WRMC decided to begin a toy library with support from Clare, our lovely lay worker, and some brilliant volunteers.
We collected donations and sorted them, and then we were ready to go. After some experimenting, we discovered that the best place for our library was the edge of the church car park – very visible to passers-by – and the best time was the end of the day for the primary school across the road.
We've lent/given away dozens of toys, had conversations in a variety of languages and got to know children and their parents, and people walking past on the street. It's a great way of advertising the church's presence and sharing the love of God as we challenge poverty among families and children in our area.
We're here every Wednesday afternoon from 2.30 – 3.30, or, if wet, in the church doorway and always happy to receive donations of toys which we can collect if necessary.