Befrienders Update, 27th November 2020
We now know that when the current lockdown comes to an end on December 2nd, we will return to Tier 3 of covid-19 restrictions for England. Sadly this means that Befrienders will continue to be closed for the time being.
Indications are that there will be a further announcement around December 16th and so another important update will be posted here then.
We hope you are safe and well, and that it won't be too long before we are together again.
God Bless, Deacon Pru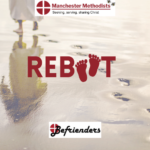 Befrienders is a project of the Manchester Circuit and operates from the Centre in Oldham Street. The café is run by volunteers from around the circuit on Monday and Wednesday afternoons from 2-4pm.
We offer a place for people to meet and chat, free tea, coffee and biscuits, the opportunity for one-to-one conversations and prayer for those who would like it.
We are grateful for the churches around the Manchester Circuit and beyond who are generous with gifts of time and money to enable this project to flourish.
For more information, contact Deacon Pru.
VOLUNTEER WITH US
While we have a great team, we are always keen to welcome more volunteers by …
· Being a listening ear
· Collecting and transporting food collections to the Centre
· Prayer – holding our Monday and Wednesday sessions in prayer
(this can be done from home!)
· Praying in the chapel with those who ask for prayer
NB it isn't essential to commit to every week; we'd just love to be able to use your gifts and any time you can offer.
If you would like Deacon Pru to talk to your congregation or fellowship group please call 0161 682 8805 or email pru.cahill@methodist.org.uk
FIND US
Befrienders, Methodist Central Buildings, Oldham Street M1 1JQ
0161 278 6795
Deacon Pru: pru.cahill@methodist.org.uk