Here are some images showing the wonderful things that have been taking place in the Circuit throughout advent, keeping people connected and spreading some festive cheer!
Rev. Sue Williams has shared this image of the characters of the nativity which Acorn Club have been colouring for the past few weeks.
This Christmas tree is at Droylsden and the stars are a reminder of those who were guided by the star to the Christ child, and also carry the names of members and groups connected with Droylsden.
This is the Christmas cross on display in the grounds of Clayton Methodist Church.
Members of the Circuit have coloured in advent wreaths and shared them in their windows…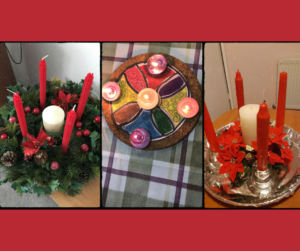 …and others have made their own advent crowns for home.
Moston held a family Nativity Trail…
…and Rev. Sharon re-told the Nativity story with knitted characters! Check out our youtube channel to view the video!