Welcome to day 2 of Holiday Club! Here is Rosie to tell us about today's theme:
Let's have a sing along!
The Story
Watch as Rev. Sharon introduces us to today's story:
Now for a lego version of the story:
Activities
Paper Pig
Print out this pig pattern or draw your own onto pink paper or use white paper and colour the patterns pink.
Cut out all the pieces around the solid black lines.
On the body part bend over along the dotted line – this makes the head.
Put glue on the top of the legs and stick onto the body.
Glue the ears to the top of the head, and the tail to the back of the body.
Glue the 'arms' under the head flap and the nose onto the front of the head.
Draw or stick on the eyes.
Copy out the Bible Verse onto a small piece of paper or card and tape the Bible verse to the pig's mouth, under the nose.
Bible verse: 'God loved the world so much that he gave his only Son.' (John 3:16)
Create your own 3D Poster
Think about today's theme and create a 3D poster based around your idea. Perhaps you might draw a picture of the Father welcoming his son home or you could design a welcome home sign. Use various materials to create texture on your poster. Some ideas of items you could use include:
Be as creative as you like and don't forget to send us a picture!
Word Search & Colouring sheet
Click here to download.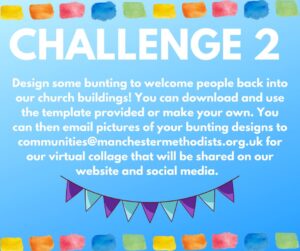 Download your bunting template here.
A prayer to end our session: