It's day 3 of Holiday Club already! We hope you are enjoying all of the activities! Here is Rosie to tell you all about the theme for today:
Let's start with a song!
The Story
Here is Rev. Sharon with a noisy version of today's story:
Now for the lego version!
Activities
Decorate a rock
Find a pebble or rock to decorate.
Decorate it based on your favourite parable of Jesus.
Write #ManchesterMethodists on the back of your rock.
Hide your rock in your local park for someone else to discover.
Don't forget to send us a picture of your rock!
Biscuit house
1. Sift icing su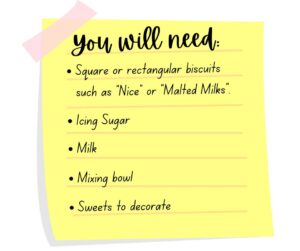 gar into a large bowl. Add milk a little at a time and stir until you have a thick, paste-like icing.
2. Spread a little icing onto one biscuit and top with another to form the base of a house. Spread icing onto this top biscuit as well.
3. Spread some more icing along the long edge of one biscuit and press it against another to create a V shape. Place this upside down onto a base, using icing to adhere.
Colouring sheet
Click on the image below to download a printable colouring sheet of the house on the rocks.
Thank you so much for joining us this week! We look forward to seeing all of your creations. Don't forget to share them on our social media or email them to communities@manchestermethodists.org.uk . Here is a little something from the Youth and Families Team to end the week with a smile!
Let us pray: