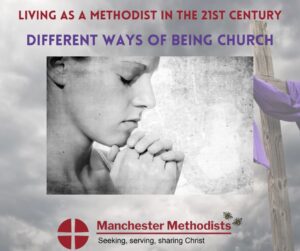 As we look to the future and respond to the pandemic, how is church changing?
Online identity
Inclusive of global Christianity
Room for individuality without giving way to individualism
Loss of control (eg. online Holy Communion) balanced by increased flexibility
In our recent survey focussing on provision in our churches following the changes brought about by Covid-19, the majority of respondents confirmed that they would welcome a hybrid approach using both online and in person options. 62% of respondents participated in our online worship via zoom and 30% accessed individual church zoom services or livestreamed services on youtube.
Useful links:
Hybrid Church – Liverpool Methodist District
What is Hybrid Church? (premierdigital.info)
One BIG Question About the Hybrid Church Model | ChurchPlants