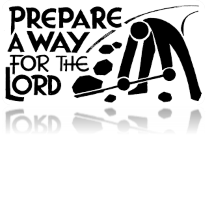 Call to worship:
In the lonely places
The wilderness
Where we stand forlorn
Windswept and alone
Your voice calls out
Prepare a way for the Lord
In the dark places
The shadows
Where we hide our fears
Embrace our tears
Your voice calls out
Prepare a way for the Lord
As the rising sun comes to us each dawn
Shine upon those who live in darkness
That all might know the joy of our salvation
The forgiveness of sins
And your great mercy
For the desert places in which we walk
The streets we roam
The paths we cross
Guide our feet
Take us to places
Where you would go
Give us words that you would use
That in this Advent season
Of promise and preparation
We might point the way with John the Baptist
To the Lamb of God, who takes away the sin of the world!
Opening prayer:
To You, O Lord, we lift up our souls.
You are our God – we trust in You alone.
Look upon us with mercy and love –
the same steadfast mercy and love You have shown
towards Your people throughout history.
Make Your ways known to us;
guide us into Your truth.
Show us the way we should go.
For You are the God of our salvation,
full of compassion and steadfast love,
and those who wait on You
will never be put to shame.
Amen.
StF 264: Make way, make way, for Christ the King
Make way, make way, for Christ the King
in splendour arrives;
fling wide your gates and welcome him
into your lives.
Make way (Make way), make way (make way),
for the King of kings (for the King of kings)
make way (make way), make way (make way),
and let his kingdom in.
He comes the broken hearts to heal,
the prisoners to free;
the deaf shall hear, the lame shall dance,
the blind shall see.
And those who mourn with heavy hearts,
who weep and sigh,
with laughter, joy and royal crown
he'll beautify.
We call you now to worship him
as Lord of all,
to have no gods before him,
their thrones must fall!
Luke 3,1-6
In the fifteenth year of the reign of Emperor Tiberius, when Pontius Pilate was governor of Judea, and Herod was ruler of Galilee, and his brother Philip ruler of the region of Ituraea and Trachonitis, and Lysanias ruler of Abilene, during the high-priesthood of Annas and Caiaphas, the word of God came to John son of Zechariah in the wilderness. He went into all the region around the Jordan, proclaiming a baptism of repentance for the forgiveness of sins, as it is written in the book of the words of the prophet Isaiah,
'The voice of one crying out in the wilderness:
"Prepare the way of the Lord,
make his paths straight.
Every valley shall be filled,
and every mountain and hill shall be made low,
and the crooked shall be made straight,
and the rough ways made smooth;
and all flesh shall see the salvation of God."
Reflection
Prepare the way of the Lord, make his paths straight. Every valley shall be filled, and every mountain and hill shall be made low, and the crooked shall be made straight, and the rough ways made smooth.
The idea is taken from the practice of Eastern monarchs, who, whenever they wanted to travel through their dominions, would not only send messengers beforehand to announce their arrival, but also pioneers to remove stones, level rough places and fill up hollows.
The pioneers' task was to make the road as pleasant and easy for their king or queen as possible. It was also necessary to make room for the royal chariot and, as the monarch never travelled unattended, the road had to be made wide enough for his suite, servants and cavalcade.
The Assyrian queen Semiramis on one of her journeys, coming to a rough, mountainous region, ordered the hills levelled and the hollows filled, which was done at an enormous cost. She wanted not only to shorten the way, but to leave to posterity a lasting monument of herself.
Over time, as more people used the new road, it was improved, widened and smoothed. It all began, however, with one person's desire to change things, to make a difference.
What can we do to be ready when God chooses to move in and through us? When He calls us to prepare the way for Him in our life, church, community?
Martin Luther King, a pioneer in the American civil rights movement, would pray this prayer every morning: "Use me, God. Show me how to take who I am, who I want to be, and what I can do, and use it for a purpose greater than myself."
In his iconic 'I have a dream' speech many years later he said: 'I have a dream that one day every valley shall be exalted, and every hill and mountain shall be made low, the rough places will be made straight, and the glory of Lord shall be revealed, and all flesh shall see it together.' Dr King understood that his dream of social justice and racial equality was in harmony with God's dream, and that God's dream would surely be realised. His task was to prepare the way for that dream in the midst of a very challenging time.
How are we preparing the way for God's dreams? Are our dreams being realised or are they gradually fading away? Have we lost hope because they now seem impossible?
Advent is a time to prepare our hearts for Jesus' coming at Christmas so that He can work in us and through us, so that our prayers, words and actions can make a difference in other people's lives. In our gospel reading for this Sunday John the Baptist is calling us, each and every one of us, to be God's pioneers, His way makers and bridge builders. It's not a glamorous task, it can be tiring and disheartening, but if we walk on the path that God has planned for us, we will 'see God's salvation, His glory revealed'.
The night before he was assassinated, Martin Luther King said in his final speech: 'I don't know what will happen now; we've got some difficult days ahead. But it really doesn't matter to with me now, because I've been to the mountain top. I just want to do God's will. And he's allowed me to go up to the mountain. And I've looked over, and I've seen the promised land. And so, I'm happy tonight; I'm not worried about anything; I'm not fearing any man. Mine eyes have seen the glory of the coming of the Lord.'
Amen
Discussion questions:
1) What helps you to be ready for God's work in your life?
2) As a church, in what ways can we prepare the way for others to meet or know Jesus?
StF 183: Praise to the God who clears the way
Praise to the God who clears the way
preparing room and space;
for power and pride will lose their sway
as peace comes in their place.
Praise to the God who comes to judge
the truth of word and deed,
who calls our minds and wills to change,
rebuking wealth and greed.
Praise to the God who waits with us
for hope and joy to reign,
who shares our suffering and our loss,
embodied in our pain.
Praise to the God who comes to bring
comfort to all who mourn.
The whole creation 'Glory' sings
as Christ the light is born.
Closing prayers
God of grace, thank you for this season of waiting.
Thank you for the beauty of the sleeping earth
waiting for spring's new life.
Thank you for the joy of children
waiting for the excitement of gift giving.
Thank you for the gift of familiar carols,
whose joyful music touches waiting hearts.
Thank you for far-flung family and friends
that we can't wait to see this season.
Thank you for the gift of Jesus Christ;
we have been waiting for a Saviour.
We pray for all who are waiting this morning;
people who are waiting for an end to violence
because they have known too much war;
people who are waiting for healing
because they live with sickness and pain;
people who are waiting for good news
because they are weighed down with sorrow.
We pray for all of the earth that is waiting–
creatures who are waiting for protection
because their environment has been destroyed;
waterways that are waiting for renewal
because they have been contaminated;
lands that are waiting to be redeemed from pollution
because we have forgotten that God called the land good.
Throughout the world, in and on and under it,
waiting happens, waiting grows and gathers,
the earth is pregnant waiting for redemption.
In eager expectation we wait for the revelation of your Son, our Lord, who gave us this prayer:
Our Father, who art in heaven,
Hallowed be thy name.
Thy kingdom come,
Thy will be done
On earth as it is in heaven.
Give us this day our daily bread
And forgive us our trespasses
As we forgive those who trespass against us
And lead us not into temptation
But deliver us from evil
For thine is the kingdom
The power, and the glory
For ever and ever.
Amen
StF 418: We have a gospel to proclaim
We have a gospel to proclaim,
good news for all throughout the earth;
the gospel of a Saviour's name:
we sing his glory, tell his worth.
Tell of his birth at Bethlehem –
not in a royal house or hall,
but in a stable dark and dim,
the Word made flesh, a light for all.
Tell of his death at Calvary:
hated by those he came to save,
in lonely suffering on the cross,
for all he loved his life he gave.
Tell of that glorious Easter morn:
empty the tomb, for he was free.
He broke the power of death and hell
that we might share his victory.
Tell of his reign at God's right hand,
by all creation glorified.
He sends his Spirit on his Church
to live for him, the Lamb who died.
Now we rejoice to name him King:
Jesus is Lord of all the earth.
This gospel-message we proclaim:
we sing his glory, tell his worth.
Benediction:
May the path
that Christ walks
to bring justice
upon the earth,
to bring light
to those who sit
in darkness,
to bring out those
who live in bondage,
to bring new things
to all creation:
May this path
run through our life.
May we be
the road Christ takes.
AMEN