Following the success of last year's inaugural online Changemakers Supporter Conference, Christian Aid supporters across the country will be joining together for an online conference on 20-25 February 2022 on the theme of Real People, Real Change.
This is an exciting opportunity to be inspired by stories from Christian Aid partners in Zimbabwe who are facing the daily reality of the climate crisis and share ideas around fundraising for Christian Aid Week, campaigning for climate justice and prayer.
Whether you join the conference for one session or for the whole week, you'll feel equipped to be a changemaker in 2022 and join a movement for change this Christian Aid Week.
Are you wondering what Climate Justice campaigning over the last year has achieved and what you can do now? Then join the Climate Campaigning beyond Cop26 session. Or be inspired by Christian Aid's Ambassadors and frontline activists in Whose Prophetic Voice?
Other sessions cover a wide range of stimulating topics including online Bible study with CREAS (Christian Aid partner in Argentina) and exciting new ways of fundraising and promoting your Christian Aid Week events. You can also meet other supporters from your area to share ideas and experiences.
Last year's participants were full of praise:
"It's rekindled my enthusiasm and inspired me to do more to raise awareness of climate change and try to get more people in supporting CA campaigns."
"I appreciated the value of hearing other people's ideas and experiences, and the chance to think about challenges together."
"The ministry of Jesus – a rebel with a cause – it's still relevant today!"
If you support Christian Aid or volunteer to encourage others to give, act and pray during Christian Aid Week, then this event is for you. For more information and to sign up, visit caid.org.uk/conference2022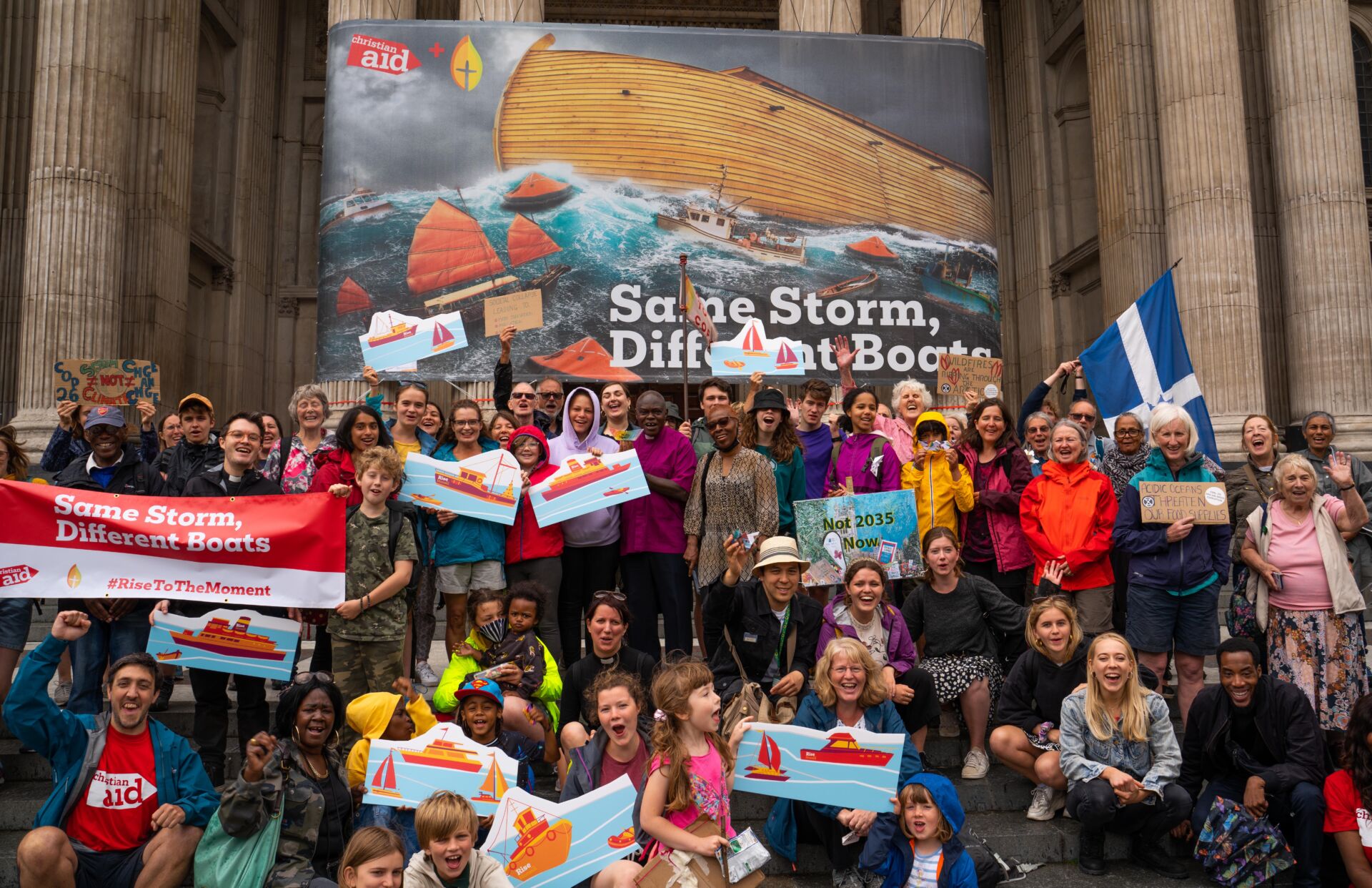 Climate Campaigners at St Paul's Cathedral. Credit: Christian Aid / Robin Prime
Christian Aid exists to create a world where everyone can live a full life, free from poverty. Poverty is an outrage against humanity. It robs people of their dignity and lets injustice thrive. But together we have the power to transform lives.
We are a global movement of people, churches and local organisations who passionately champion dignity, equality and justice in countries worldwide. We are the changemakers, the peacemakers, the mighty of heart.
We provide urgent, practical help in times of crisis and beyond. We seek to eradicate extreme poverty by tackling its root causes. Together with people living in poverty, we amplify our voices to speak truth to power and create lasting change.
Everyone is equal in the sight of God. For over 75 years, this has inspired us to stand together in solidarity with our global neighbours, of all faiths and none. Visit https://www.christianaid.org.uk for further information.