The Young Christian Climate Network are currently embarking on a Relay to COP26 to demonstrate that people care about climate justice and creation care. The aim being to see systematic change on a global and a local scale and they hope that running this relay, will help to raise awareness of COP26 and our imperative as Christians to engage in creation care theology, individually and corporately. Full details about this can be found here: RELAY | YCCN
This weekend we have held our Circuit Relay tributary walks in support of YCCN and Rise to the Moment. Special thanks to our church relay co-ordinators for their help in the organisation of this event: Abigail Parr for Hope, Daphne Dawson for Crumpsall, Rev. Sue Williams for Droylsden, Rev. Joy Rulton for Edge Lane, Elva Towler for Clayton, John Kinsey for Levenshulme, Heather Steward for Withington and Steven Rowe for Chorlton.
Saturday 4th September:
Route 1: Hope Methodist Church to Methodist Church Crumpsall
Route 2: Methodist Church Crumpsall to Moston Methodist Church
Prayer from Methodist Church Crumpsall
Let us pray.
We pray briefly for Crumpsall where we started our last lap of this journey. At the moment we have some difficulties. Our Minister, Sharon Read, is on long-term sick leave and we are trying to start up services in her absence. We have been well supported in this, and with the good Lord's help our first service went well. But like meny churches we are finding it hard to manage financial and property issues in this time of Covid, through lack of volunteers and funding. Lord please comfort and support those who are doing a lot of the work and finding it anything but restful. Also be with those who have had physical problems during the Covid pandemic, especially Rev. Sharon and her family. May they feel an increase in energy and vitality before too long and may Sharon be able to join us as the church opens up once more.
But we should pray too for our event this weekend. Lord you are ever with us and have led us here today in safety. We pray that people have remarked on our progress and are thinking more about climate change and what can be done to save our wonderful earth and all the creatures to be found around us. Strengthen us to adapt our style of living as may be necessary and to do our best to encourage others to do likewise.
We ask this in the name of Christ our Saviour.
Amen
Sunday 5th September:
Route 3: Droylsden Methodist Church to Edge Lane
Route 4: Edge Lane to Clayton Methodist Church
Route 5: Clayton Methodist Church to Levenshulme Methodist Church
Route 6: Levenshulme Methodist Church to Withington Methodist Church
Route 7: Withington Methodist Church to Chorlton Methodist Church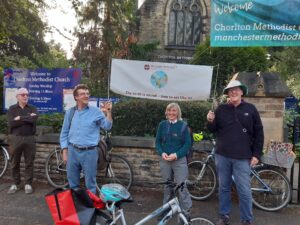 Route 8: Chorlton Methodist Church to Manley Park
Prayer from Droylsden
Loving God,
At Droylsden Methodist Church, where we worship and work and in the community where we live, we give you thanks and praise for your life-giving love.
In that love we pray for all who are working for justice and freedom in Afghanistan and in other countries where people are intimidated and held captive.
We pray for the strengthening of the bonds of the local community and the outreach of the church. We pray for those whose jobs have been lost over recent months, for those who have lost their homes, for those who are hungry.
And so we pray:
in our support of local foodbanks and other groups which help the needy and the individual, direct our work and our witness;
for those who are isolated or cut off from loved ones, direct our work and our witness;
for our church and external groups, direct our work and our witness.
Our God is with us.
Thanks be to God who hears our prayers.
Amen.
YCCN will be making their way through Manchester on the weekend of 11th September. Find out more about local events in support of this here.